Easily paint & slice any 3D model in MultiColor for 3D printing. Makes EVERY 3D printer MultiColor. Enhances the MMU2 and the Palette2.

You can still buy a Retractable Purge Mechanism here: https://www.bigbrain3d.com/product/retractable-purge-mechanism/

SimplyColor3D 2.0 is almost here!!! Email info@bigbrain3d.com and we will let you know when it's available.
With over a MILLION models it's no wonder that most 3D printer users rely on thingiverse.com for content.
But there are less than a thousand MultiColor models on thingiverse. As more people are buying MultiColor capable 3D printers this creates a problem, and there's no easy and inexpensive way to paint and slice 3D models.
Making MultiColor models is DIFFICULT!
The normal method to create a MultiColor model is to cut the model into different pieces, using a software program like NetFabb and Meshmixer, and then importing the different pieces into a 'Slicer' and assigning them to different extruders. This is fine for simple shapes but for complex and detailed shapes it's too difficult for most users to do.
SimplyColor3D makes any 3D model MultiColor
The only way to solve the 'Lack of multicolor models' problem is to enable easy MultiColoring of 3D models for everyone. That way anyone can make any model a MultiColor model. What we need are software tools for painting and slicing and a community to remix all existing thingiverse.com models. Since there are no easy tools that support preparing multicolor models for 3D printing we took on this challenge and created SimplyColor3D the first integrated solution for painting and slicing MultiColor 3D models.
SimplyColor3D allows anyone, of any skill level, to turn a single-body 3D model into a MultiColor 3D model, for 3D printing in multiple colors easily. All the 3D models that you design, all the models on thingiverse.com, and all the other online model repositories, can be colored with SimplyColor3D and 3D printed in multiple colors on any 3D Printer. This enables a level of freedom and customization never before seen. Every 3D model is now a MultiColor model. Every model can be colored unlimited times in different colors too. Maybe you think a robot should be blue with purple eyes but someone else thinks that same robot should be red with pink polka-dots all over; Using SimplyColor3D you can both be right! You can even share the color file and adjust the colors as you see fit.
With SimplyColor3D every 3D printer is MultiColor. When printing with a single filament 3D printer SimplyColor3D will pause the print at each color change and allow the user to replace the filament with the next color.
And what about the artists? Right now there is no good way for them to ensure that users print the models the way they intended. If the models had all the color information then it would be much easier for users to print models the way the artist intended. Easy painting means more people can express themselves with color too. More multicolor content means that it will be easier for potential users to find a use for 3D printing. More MultiColor models = more people adopting 3D printing. More 3D printing adopters means more content, lower prices, and a more personalized planet. The demand for MultiColor will create the expectation that all thingiverse.com uploads need a MultiColor remix.
Here is how it works: 1)Upload any 3D model to SimplyColor3D, 2) Easily color the 3D model, 3)Click 'slice' and the gcode will be emailed to you with instructions for printing.

SimplyColor3D process
Here is a little more detail on the user interface:
We think it's important that SimplyColor3D Adheres the industry standard way of doing things. That's why we use unwrapped Obj files with texture map png's. Models that are painted with SimplyColor3D are cross platform compatible with leading programs like Blender, Maya, 3DS, Rhino, Sculptris, and Vise versa.
SimplyColor3D has a main window where the 3D model is displayed on the left where the user loads an OBJ.
On the right hand side are the menus where models can be selected and the size of brush can be changed.
The color can be selected by either entering the exact RGB color code or by picking from a color wheel, or by using a color picker for selecting a color that is already painted on the model. This way the user can work with a standard set of colors easily switching between them.
Color picking and painting
The user clicks the 'slice' button and they are sent an email with a zip file attached. The Zip contains the .gcode, .obj, .png, and .mtl files.
Then just print it on your 3D printer.
Raving Rabbids – printing timelapse:
Timelapse of Painting and Printing Fortnite Lynx:
The default way of purging the old color during transition between colors is to use a purge block. The main problems with purge blocks are that they must be printed on every layer even if there are no color changes, and they take up space on the print bed, and the final blocks are too large to be directly extruded into filament again. Our solution fixes all these problems.
We've designed a new retractable purge mechanism. It mounts to the side of your 3D printer and works with SimplyColor3D to reduce waste and decrease purge time. With our retractable purge mechanism, material is only purged when a color change happens which mean fewer purges and faster prints. The retractable arm means zero reduction of the build area and turns color transition purge into little blobs. The blobs can be extruded, like with the Filabot of Kickstarter fame, which means literally ZERO WASTE!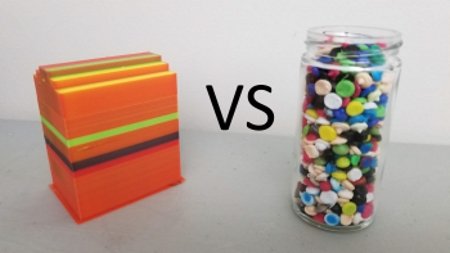 Our new retractable purge mechanism will free up the print area from purge blocks even if your 3D printer extruder cannot move past the edge of the print bed. Extruding color transition blob with the retractable purge mechanism:
Once the print is complete the user may create a remix on Thinigverse.com and upload the painted 3D model files with tags.
Imagine if you could go to thingiverse.com and find a MultiColor remix of any model – How cool would that be? How much happier would new users be? And how much better for people that don't have the time or skill to paint the models themselves?
You may already have a slicer that you love and use all the time, maybe you even paid for it, but it's not going to help you with MultiColor printing. At their core they don't know anything about color. We've designed our solution with color in mind from the beginning.
There is already software that allows painting models in 3D. Some of them are very expensive. Those that are free are overly complex and difficult to use since their purpose is geared toward the movie and game industries of Hollywood. Sculptris was the best free 3D model painting program but it's not suitable for 3D printing because it lacks needed features like slicing, color picking, exact color codes, and preservation of form – all of which SimplyColor3D has.
As you can see from these comparisons SimplyColor3D is the ONLY solution that both paints and slices MultiColor 3D models for 3D printing – SimplyColor3D is the easiest software to unwrap, paint in 3D, and slice a 3D model for 3D printing!
Cloud based software no download or installation required
Load 3D models
Automatically flatten/unwrap 3D models
Paint 3D models with multiple colors
Slice MultiColor models for any 3D printer including the 'Original Prusa i3 MK3 MMU2.0' FFF/FDM and the Mosaic Palette 2
Email completed gcode
Select brush color from infinite color palette
Manually enter brush color from exact RGB color codes
Color picker to select brush color from any part of the model
Option to paint entire model with selected brush color
Rotate view 3D
Move view up/down/left/right
Zoom view In/Out
Hotkey shortcuts for all functions
View and paint 2D UV texture
Export model and texture color
Purge in infill
SimplyColor3D is a Cloud application, which means it runs in your browser and doesn't require any software to be installed on your computer. It supports all operating systems (Windows, Mac, Linux) and a wide range of hardware. To run SimplyColor3D your computer must have the following capabilities:
Operating system: Windows, Mac, Linux
CPU: 3ghz dual core i5
Memory: 16GB
OpenGL: Must support at least OpenGL V3.3
Graphics card: GTX1050 or better
Browsers: 100% Tested with Chrome and FireFox (other browser may work)
Internet connection: 10mb/s
Any 3D printer
A drawing tablet like the Huion 1060 Plus (Recommended over a mouse)
Prusa MMU2S or Mosaic Palette 2 (Recommended)
What is included?
Includes 1 year of unlimited use to paint and slice models with SimplyColor3D and the build instructions for the purge mechanism.
The '+ hardware' option also includes 3D printed parts and hardware. This kit contains everything you need to build a retractable purge mechanism for your 3D printer. Most printers will work with the purge mechanism but may also require some modification by the user to mount them. We will work with our customers to support mounting the Retractable Purge Mechanism on each of their 3D Printers.
Supported 3D printers:
Most printers will work with the Retractable Purge Mechanism but may also require some modification by the user to mount them.
The Original Prusa i3 MK3S (The kit is a straight bolt-on)
The Original Prusa i3 MK2/2S/3 (requires a user printed adapter)
Mk3 Bear (requires a user printed adapter)
Creality CR-10 (requires a user printed adapter)
Ender 3 (requires a user printed adapter)
A10/A10M/A20M/A10T/A20T (requires user printed adapter)
What's included in the kit:
If you choose print and source the parts yourself then all of the 3D printable files and instructions for the purge mechanism will be emailed to you after purchase. You may choose to make the purge mechanism yourself but it will require some specific springs, screws, a modified thumb tack, a modified washer, aluminum tape, and kapton tape. All these things come already prepared in the kit so that only assembly is required. The kit contains everything you need to build a retractable purge mechanism for your 3D printer.
1 standard steel thumb tack (modified shortened)
4 tension springs (.5mm wire gauge, 5mm ID, winding 8.8mm long, 20.5mm overall)
10pcs of die cut Kapton tape -> 2mm wide X 47mm long
60mm of Aluminum tape
An M4 washer with notch cut out
2pcs M3x10mm Flat head Allen screw
2pcs M3x10mm Socket cap Allen screw
1 tube of silicone grease (it's the only grease that won't harm plastic)
3D printed parts: Bracket, cage, catcher, mount, action, connecting arm, wedge, flicker (unless specified at time of purchase, parts will be random color either cyan, magenta, yellow,  black, white, or transparent)
SimplyColor3D enables everyone to be a graphic design artist. It's so easy that young or old, professional or hobbyist, anyone can turn boring single color models into exciting MultiColor 3D models.
If you want to paint your own models, or contribute to remixing models on thingiverse.com, or if you want to turn your single color 3D printer into a multicolor 3d printer, or extend your MMUS2 or Palette 2 with unlimited colors, or get rid of the giant wasteful purge blocks, then SimplyColor3D is for you.
We believe that 3D printing should be colorful. We need your support to bring SimplyColor3D – the simplest and most intuitive way to produce MultiColor models for 3D printing – to the WORLD!.
With your purchase we will grant you early access to SimplyColor3D and use the money to further the development of SimplyColor3D and our mission to make every 3D model MultiColor.
With over a million models that need painting it's going to take a while. Come on! Let's get started!!