Hi All,
Since completely delivering our Kickstarter backer pledges we have delivered another 380+ Retractable Purge Mechanisms. The community is growing fast! We've released the STL and STEP files to Thingiverse and PrusaPrinters. That 'Thing' has since received over 16K views and 870 downloads!
What's new?
The original V1.0 kit is still working well, but we've released many updates to gcode purge script, including a huge reduction in the X motor current (thanks @jens-giesser), so make sure you update your scripts.
There is now support for 'Tip shaping' in PrusaSlicer with an automatic post-processing script written by VintagePC and Gnat and published on Github here. Many of you in the community have also contributed variants of the RPM parts so that there are more than 10 3D printers now supported.
Here are a some community prints you may not have seen: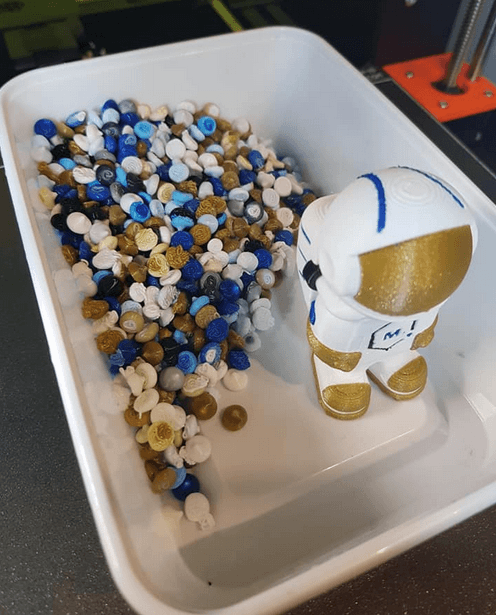 How can BigBrain3D help?
We want everyone of you to have success using the new purge mechanism. If you need help with setting up the kit on your 3D printer, or if you would like to share your experience with us, then please reach out to us. We are active on our Forum, Thingiverse, and directly via email: [email protected]. The community is increasing in activity and you can often get a response from another member faster than us on the forum 🙂
Your feedback matters. Because of you this entire project has improved beyond anything we could have done by ourselves. More printers are supported and the entire process works better because of your help.
Thank you to everyone who has been helping their fellow community members. And thank you for the posts we've seen about successful makes and MultiColor prints completed using the purge mechanism.
How can You help?
There are a couple challenging areas that we could use your help with:
1)One of the best things you can do is share your MultiColor prints on Reddit/Facebook/Thingiverse. This will naturally promote the project and help more users find out about this new way of purging.
2)Support for Canvas. It's has been learned that Canvas cannot support the Retractable Purge Mechanism without a code change. Writing to Mosaic and nicely suggesting that you would also like them to support the Retractable Purge Mechanism in Canvas would go a long way.
3) Please subscribe to us on YouTube and 'like' us on Facebook. If we get another 6 subscribers on YouTube then we can have a custom URL!
What's next?
We are working on supporting other printer variants, like the Mosquito hotend, and testing a low height version of the 'Cage' for better clearance.
We're going to try and send an update every month.
Happy 3D printing!
BigBrain3D =D