The 'Retractable Purge Mechanism' kit is in stock and ships next business day.

Free World-Wide shipping!

During MultiColor 3D printing the default way of purging the old color during transition between colors is to use a purge block. The main problems with purge blocks are that they must be printed on every layer even if there are no color changes, and they take up space on the print bed, and the final blocks are too large to be directly extruded into filament again. Our solution fixes all these problems.
We've designed a new retractable purge mechanism. It mounts to the side of your 3D printer and works with any slicer (i.e. Slic3r (PE), Simplify3D, SimplyColor3D, Cura) to reduce waste and decrease purge time. With our retractable purge mechanism, material is only purged when a color change happens which mean fewer purges and faster prints. The retractable arm means zero reduction of the build area and turns color transition purge into little blobs. The blobs can be extruded, like with the Filabot of Kickstarter fame, which means literally ZERO WASTE!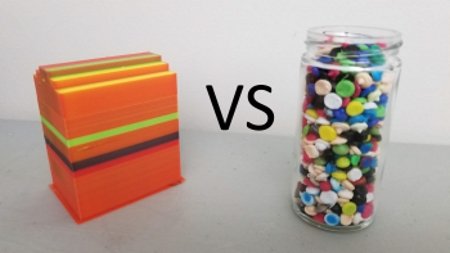 Our new retractable purge mechanism will free up the print area from purge blocks even if your 3D printer extruder cannot move past the edge of the print bed. Extruding color transition blob with the retractable purge mechanism:
This video shows a live multicolor 3D print color change. The retractable purge mechanism can be seen actuating and the blobs forming and being knocked off the catcher into the waiting waste bin.
The purge blobs can be recycled so there is zero waste:
What is included?
This hardware ONLY option includes 3D printed parts and hardware. This kit contains everything you need to build a retractable purge mechanism for your 3D printer. Most printers will work with the purge mechanism but may also require some modification by the user to mount them. The kit is a straight bolt-on for the Prusa i3 MK3S printers. We will work with our customers to support mounting the Retractable Purge Mechanism on each of their 3D Printers.
In addition to receiving a complete kit, all of the 3D printable files and instructions for the purge mechanism will be made available to you after purchase.
What's included in the kit:
-1 standard steel thumb tack (modified shortened)
-2 tension springs (.5mm wire gauge, 5mm ID, winding 8.8mm long, 20.5mm overall)
-10pcs of die cut Kapton tape -> 2mm wide X 47mm long
-60mm of Aluminum tape
-An M4 washer with notch cut out
-2pcs M3x10mm Flat head Allen screw
-2pcs M3x10mm Socket cap Allen screw
-1 tube of silicone grease (it's the only grease that won't harm plastic)
-3D printed parts: Bracket, cage, catcher, mount, action, connecting arm, wedge, flicker (unless specified at time of purchase, parts will be random color either cyan, magenta, yellow,  black, white, or transparent)