Now supports Mosaic Canvas.

During MultiColor 3D printing the default way of purging the old color during transition between colors is to use a purge block. The main problems with purge blocks are that they must be printed on every layer even if there are no color changes, and they take up space on the print bed, and the final blocks are too large to be directly extruded into filament again. Our solution fixes all these problems.
We've designed a new retractable purge mechanism. It mounts to the side of your 3D printer and works with any slicer (i.e. PrusaSlicer, Mosaic Canvas, Slic3r (PE), Simplify3D, SimplyColor3D, Cura) to reduce waste and decrease purge time. With our retractable purge mechanism, material is only purged when a color change happens which mean fewer purges and faster prints. The retractable arm means zero reduction of the build area and turns color transition purge into little blobs. The blobs can be extruded, like with the Filabot of Kickstarter fame, which means literally ZERO WASTE!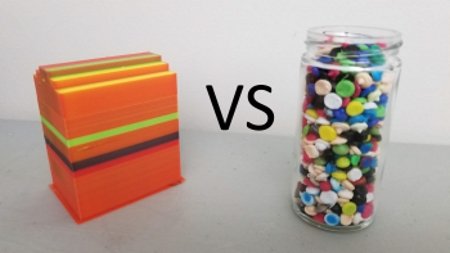 Our new retractable purge mechanism will free up the print area from purge blocks even if your 3D printer extruder cannot move past the edge of the print bed. Extruding color transition blob with the retractable purge mechanism:
This video shows a live multicolor 3D print color change. The retractable purge mechanism can be seen actuating and the blobs forming and being knocked off the catcher into the waiting waste bin.
Supported 3D printers:
Most printers will work with the Retractable Purge Mechanism but may also require some modification by the user to mount them.
The Original Prusa i3 MK3S (The kit is a straight bolt-on)
The Original Prusa i3 MK2/2S/3 (requires a user printed adapter)
Mk3 Bear (requires a user printed adapter)
MK3 with Skelestruder (requires a user printed adapter)
MK3 with BondTech (requires a user printed adapter)
Creality CR-10 (requires a user printed adapter)
Ender 3 (requires a user printed adapter)
Geeetech A10/A10M/A20M/A10T/A20T (requires user printed adapter)
What's included in the kit:
This kit contains everything you need to build a retractable purge mechanism for your 3D printer.
1 standard steel thumb tack (modified shortened)
3 tension springs (.5mm wire gauge, 5mm ID, winding 8.8mm long, 20.5mm overall)
10pcs of die cut Kapton tape -> 2mm wide X 47mm long
60mm of Aluminum tape
An M4 washer with notch cut out
2pcs M3x10mm Flat head Allen screw
2pcs M3x10mm Socket cap Allen screw
1 tube of silicone grease (it's the only grease that won't harm plastic)
3D printed parts: Bracket, cage, catcher, mount, action, connecting arm, wedge, flicker (unless specified at time of purchase, parts will be random color either cyan, magenta, yellow, black, white, or transparent)
Retractable Purge Mechanism
Average rating:
19 reviews
Jan 16, 2020
Wow this is fantastic!!
Jan 15, 2020
And here I was just getting into multi color prints, thinking those towers are a bloody waste of filament if you don't need to swap colors every layer. This is a great solution!
Jan 13, 2020
What a great design, I must try this at once!! Thank you so much for all of your work, it will be put to good use.
Jan 13, 2020
Dear god that's genius. Great evolution of the purge bucket.Thanks for sharing with everyone!
Jan 11, 2020
Bravo, the purge tower is what has been stopping me from doing multi color. Awesome work.
Jan 9, 2020
I think this idea is fantastic and I'm glad you are putting it back into the community.
Jan 5, 2020
This is genius! Awesome!!!!!
Jan 3, 2020
This is beautiful, I'd love to see it available for other printers!
Jan 1, 2020
This is amazing!