Purge blocks waste more time and filament than the print you want to make. 
Purge blocks, sometimes called purge towers or just purge, are the result of MultiColor 3D printing when switching to another color, the nozzle-hotend must have the previous color cleaned out. This is wasted filament, wasted print bed space, wasted printing time, and wasted money. 
Purge blocks are bad for you,
and
the environment!
The default purge blocks that Prusa Slicer suggests are inadequate for most transitions, especially from dark to light colors.  They need much larger purge blocks sometimes 10x the amount of the actual print. 
Purging endlessly gives a diminishing return; The color will never be perfect. A discerning eye will always see the color streaks especially from dark to light color transitions.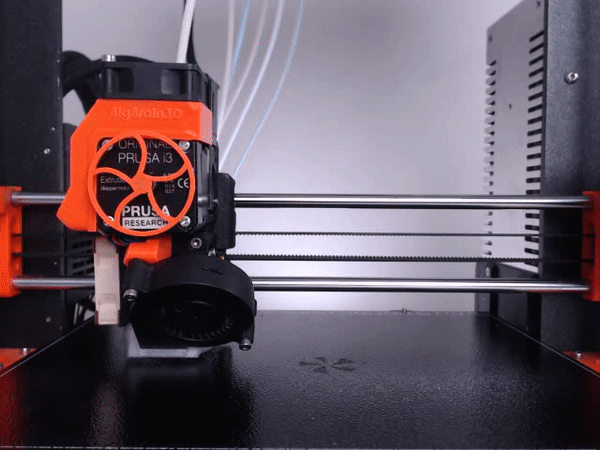 The Swapper3D

™

is our patent pending bolt-on add-on for the the Prusa i3 or the Creality Ender3 V1, PRO, and V2 and CR-10 series printers with one of the following filament changers:
Prusa MMU
Mosaic Palette
CoPrint: Multi-Material Module
ERCF (enraged rabbit carrot feeder)
3D Chameleon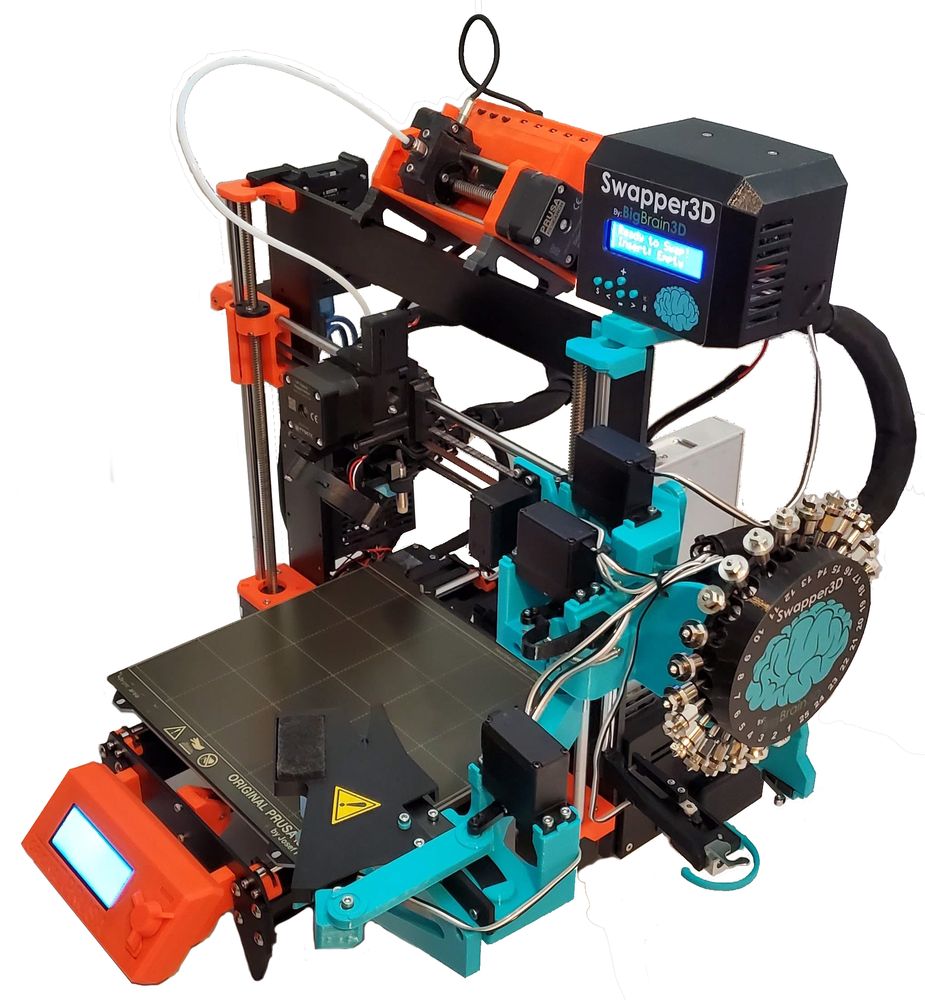 Instead of purging old colors out, it automatically swaps inserts so that a nozzle only ever has a single color in it. For instance, if you're printing a white and black print, there is a QuickSwap-Insert in The Swapper3D for each color White and Black. Then every time the print changes color, the Swapper3D swaps the current Insert for the Insert of the other color and then no purging is needed because that Insert has that color already in it.
Each QuickSwap-Insert is assigned to a single particular color and reused an unlimited number of times during the print. Each time the printer needs to use that color the Swapper3D loads the insert for that color, it's heated back up, and the printing continues. In this way unlimited color swaps can be done.
The Swapper3D can hold 25 QuickSwap-Inserts. That is many more than other 'tool changer' or 'multi-extruder' 3D printers, Swapper3D can do this because only the QuickSwap-Insert is much smaller than a typical hotend without the heater-block, heater, and temperature sensor. The unique design and ultra short heat break prevent jams even without a cooling fan on the heat-break.
The Swapper3D locates the QuickSwap™-Insert into a tapered bore in QuicSwap-Hotend which mean no offset calibration required as there would be with multi-extruder 3D printers. And because there is no purging at all when using the Swapper3D you don't need to waste any time calibrating the transition length and optimizing the purge amount per filament. This will get you printing in less time and with less frustration.
The Swapper3D can even be used for nozzle size changes on the fly. Imagine having .2/.4/.6/.8/1mm nozzles for use throughout your prints automatically no tools required. 
Our QuickSwap™-Insert has a removable nozzle which can be replaced with any E3D V6 compatible nozzle. 
This way you can still make use of your expensive upgraded nozzles you already own (i.e. Ruby tipped, tungsten, hardened steel, and different sizes, etc, sold separately). Also, if the nozzle clogs then you can just replace the  end nozzle instead of the entire QuickSwap™-Insert which will save you money.
Benefits of the Swapper3D:
Eliminates purge blocks
Eliminates color transitions and purge waste
Reduces used filament
Reduces print time
Frees up space on the print bed
Automatically swaps inserts during multi-material prints (like PVA)
Automatically swaps inserts during MultiColor prints (*Filament switcher add-on not incl.)
Automatically swaps nozzles for different sizes during prints
It's more interesting to watch than printing a purge block
MMU print reliability is greatly improved.  Because the filament is now cut before unloading no tip shaping is required, and strings are impossible too. The reliability of the Mosaic Palette is also increased because less filament is used for the entire print which helps the Palette maintain splice length synchronization.
A step

in the right direction

to save our planet:

One of the main purposes of this product is to reduce the waste plastic that is normally produced during MultiColor FDM 3D printing. Plastic pollution has become one of the most pressing environmental issues in the world. The filament plastic we waste unthinkingly every single day, the plastic we throw away without a moment's thought, it lives on, and on.

We estimate that if every Prusa MMU 3D printer user were to use a Swapper3D then it would keep more than 300,000kg worth of purge plastic out of landfills per year!
For the first time ever a 3D Printer is able to have 25 nozzle types and sizes loaded at once. By this point you may be wondering "Why are there 25 nozzle/hotend storage spots when the Prusa MMU can switch between 5 filaments, the CoPrint up to 7, the Mosaic Palette up to 8, the ERCF up to 12 (enraged rabbit carrot feeder)?"
The Swapper3D supports "UP TO" 25, but it will work with 1 or 2 or 5 or 8…all the way UP TO 25. When users purchase the base Swapper3D kit it comes with 5 QuickSwap-Nozzles and it can be expanded by adding more at any time in the future.
The 'up-to' 25 nozzles can also be used to automatically switch different nozzle sizes during the print even when printing with a single filament.
There are many good reasons for 25:
1) Nozzle sizes & types. The Swapper3D can be used to automatically swap nozzle sizes during a print.  Since the Swapper3D hotend works with any E3D compatible nozzle you could load in your ruby, tungsten, stainless, high speed, brass, nickel copper, or hardened steel nozzles that you already own and automatically swap them at the required time during a 3D print.
2) Filament types. Mixing different filament types can cause problems, so you could use the extra spots to store nozzles for different material types, like ABS or PET, and automatically swap them during a 3D print. This way you don't need to clean the nozzles out between materials without risk of jamming or clogging. The Swapper3D works with any material.
3) Leave your colors loaded. If you have 25 different colors on hand you could leave all the nozzles loaded and select the correctly colored nozzle from inside PrusaSlicer, either at the start of a print or automatically during a print.
4) Future proof. As MultiColor add-ons increase in number of available colors you can easily add QuickSwap™-Inserts to the Swapper3D to accommodate the upgrade.
In short the extra storage spots don't require any extra hardware so there is no disadvantage if you don't use them, and plenty of advantage if you do use them. The Swapper3D comes with 5 QuickSwap-Inserts. That is enough for the Prusa MMU. If you want more then you can buy them at the checkout.
What is included in your Swapper3D Kit:
Each Swapper3D kit includes all the hardware needed to assemble one(1) Swapper3D, including five(5) QuickSwap-Inserts. (*Nozzles not included, you will need 5x v6 nozzles).
Step by step assembly instructions for building your Swapper3D are also provided.
Swapper3D in action on the Prusa i3 and the MMU:
Octoprint
You will need Octoprint to synchronize your printer with the Swapper3D. Octoprint can be installed on a raspberry pi (or equivalent), windows,
mac, or linux, it can even be installed on an old cell phone; It's easy
to do. Octoprint also support Klipper printers.
Creality
Creality printers require 2 lead screws (left and right), anti-backlash nuts, the LCD screen moved to the left side of the printer, and we currently only support bowden extruder Creality printers.